MRE Wrap-Up
REAL STORIES
22.11.2022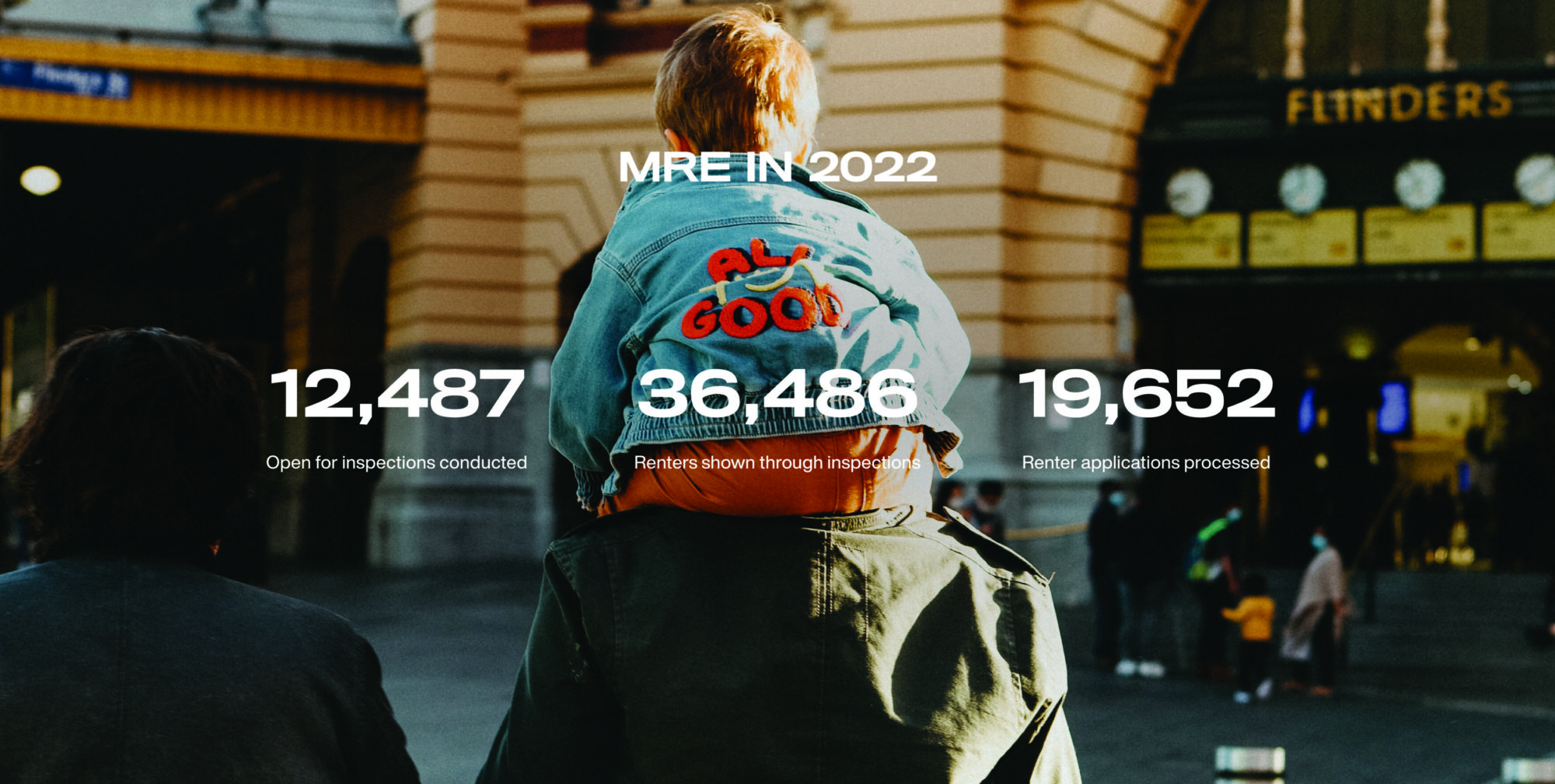 Our great people continue to provide real service, striving for outstanding results for you and your investment.
Overcoming market obstacles, returning to the office after two years of remote work and refreshing our brand identity, website and values, MRE is proud to say that 2022 has been a thrilling and momentous year.
Our team has continued to demonstrate their effectiveness by being Melbourne's leading Portfolio Management and Leasing team. This calendar year we have conducted 12,487  open for inspections, meeting 36,486 prospective renters across Melbourne's great neighbourhoods. We have processed 19,652 applications, resulting in the successful leasing of 1,549 properties. Our Portfolio Managers have championed the market recovery, having achieved a collective gross increase of $153,130 in rent per week for our owners since the start of the year. That equates to an annual increase of nearly $8M in additional rent for our owners. MRE will continue to meet and beat the market.
As a result, we are constantly expanding our portfolio. If you know anyone who is looking for a reliable, proactive, and real Portfolio Manager, please contact us today.
We recently issued a survey to our network of renters, querying their feedback on their experiences with our Portfolio Managers. You'll be pleased to learn that MRE received a score of +30, which when compared to the industry standard of -4, is an outstandingly impressive result. We care deeply about our owners' experiences with us as well. We'll soon be sending all of our owners a short survey, and we look forward to receiving your responses.
How is the property market tracking as we head into 2023?
With just a month remaining in 2022, the results over the next few weeks will strongly influence how the rental market will perform over the peak season (traditionally, January to March). Just within the last 30 days, we have witnessed a 28.6% increase in prospect tenant enquiries and the number of prospective tenants booked in for inspections is up 27.4%.
These renters are registering to view properties at record-high rents and we don't see this trend ceasing anytime soon. We expect rents to continue to climb in 2023, with rental prices rising due to the sheer demand for limited stock.
Melbourne welcomed its first spring selling season without restrictions since 2019, with prospective buyers being met with an abundance of property choice. It is anticipated that this typically fervent season will extend through to the first quarter of 2023.
Additionally, we are witnessing an increased level of investors entering the market, attracted by the increase in rental prices. Economists are also predicting a cut to interest rates in late 2023, indicating the current stagnated market will only last for a relatively short period.
As always, our sales team are able to provide a free appraisal or assist with any questions you may have regarding the market's current conditions. If you're interested in selling, please contact our Residential Sales Manager, Michael Fava (michael.f@mre.today).